Mechanicsville, Virginia, November 9, 2020 – Last week, the Society of Collision Repair Specialists (SCRS) launched nearly 24 hours of online educational sessions as part of Repairer Driven Education (RDE) in conjunction with SEMA360.
The entire virtual lineup is available at https://rde.scrs.com, and the sessions can be accessed and replayed through August 2021.
RDE included business-oriented subject matter ranged from preparation in order to get paid for scans, overcoming insurer objections, leveraging OEM certifications, technology that will disrupt your business, marketing online, litigating and winning short payments and more. Additionally the sessions included more technical topics such as duplicating OEM seam sealer, interpreting component level data and Glue Pull Repair. The OEM Collision Repair Technology Summit session delved deeper into emerging realities in the automotive space, with presentations from executives and engineers at GM, Subaru America, Ford and Audi of America, with an in-depth look at Materials, technology and changes in automotive design in North America, from the perspective of Ducker.
"This has been a challenging year for in-person events, and we wanted to do our best to provide easy access to our audience from the comfort of their business, while still maintaining the aesthetic and feel of participating in a national level event," shared SCRS Chairman, Brett Bailey. "Rather than deliver this content over an online webinar platform, we were organized an event bringing our speakers on-site to be filmed in the front of a room, situated similarly to how an event-room would be set. Based on the feedback last week from our online attendees, I feel like we delivered on our vision, and we've got a great deal of gratitude to our speakers who went the extra lengths to join us for filming in-person to share their expertise with the industry."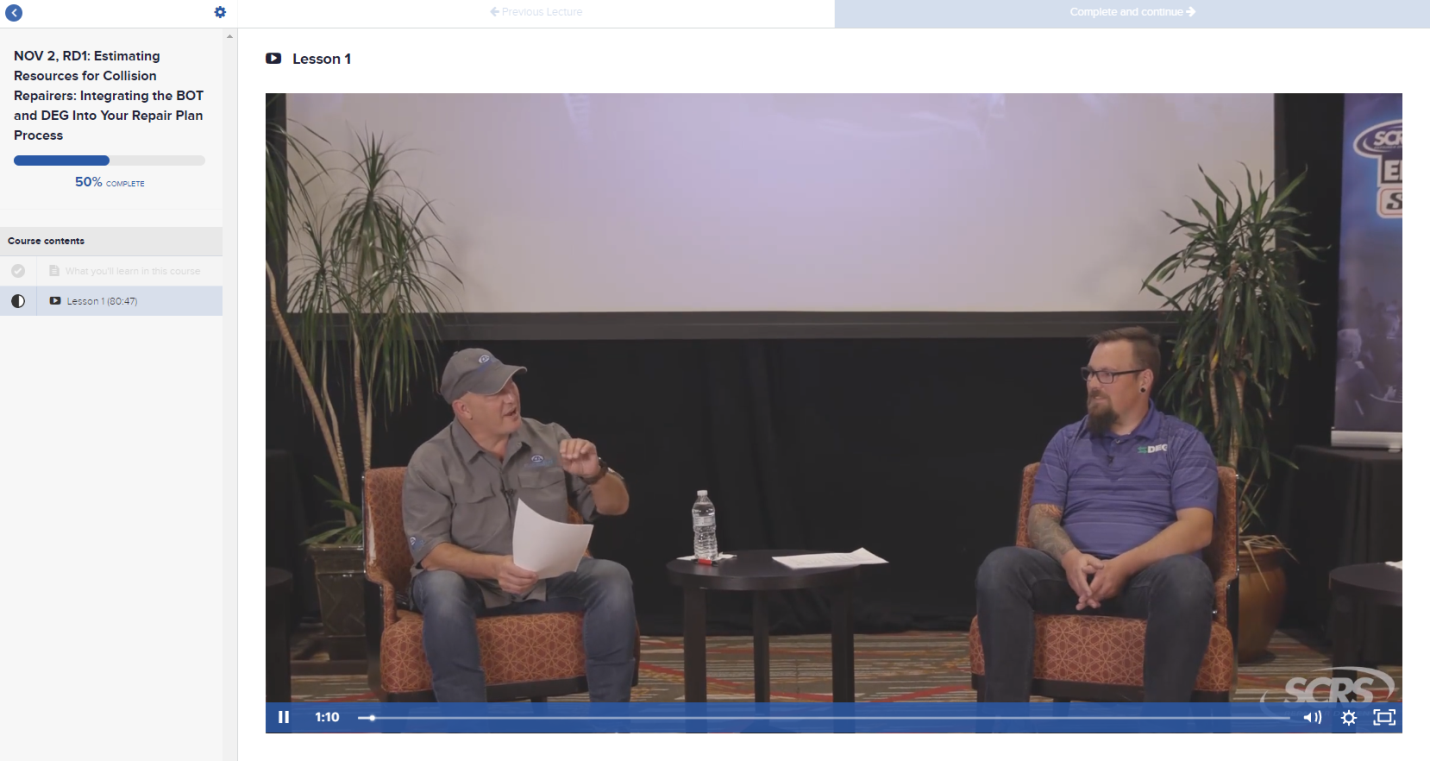 (Pictured above: Mike Anderson and Danny Gredinberg in RD1: Estimating Resources for Collision Repairers: Integrating the BOT and DEG into Your Repair Plan Process)
SCRS additionally extends their appreciation to the companies who supported the association in delivering the educational content the industry has come to rely on from the Repairer Driven Education series. Additional support for the program was provided by AASP, 3M, AirPro Diagnostics, AkzoNobel Performance Coatings, Axalta, BASF, CCC Information Services, Enterprise, GM Genuine Parts, PBES, Podium, PPG Automotive Refinish, Reliable Automotive Equipment, Sherwin-Williams Automotive Finishes, SEMA360, Spanesi-Americas and Toyota Wholesale Parts.
To learn more about SCRS' education series, visit https://rde.scrs.com.
To learn more about the association, or to join as a member, please visit www.scrs.com.