The Society of Collision Repair Specialists (SCRS) recognizes that the industry is seeking appropriate responses and practices, and on Tuesday, April 28th 2020 held a live webinar to learn from professional restorers experienced in restoration, decontamination and infectious disease control.

Click here to view the recording of the free webinar: https://us02web.zoom.us/webinar/register/rec/WN_877fyHmOTE2rQR1R8UIcxA?meetingId=vclQbJKh53FJUM_KuWPvHbViF6PgX6a8higX-PMEy09RaDO095VbEu16XSp9sfUb&playId=&action=play
Please use this password when prompted, 2T%*E!68​​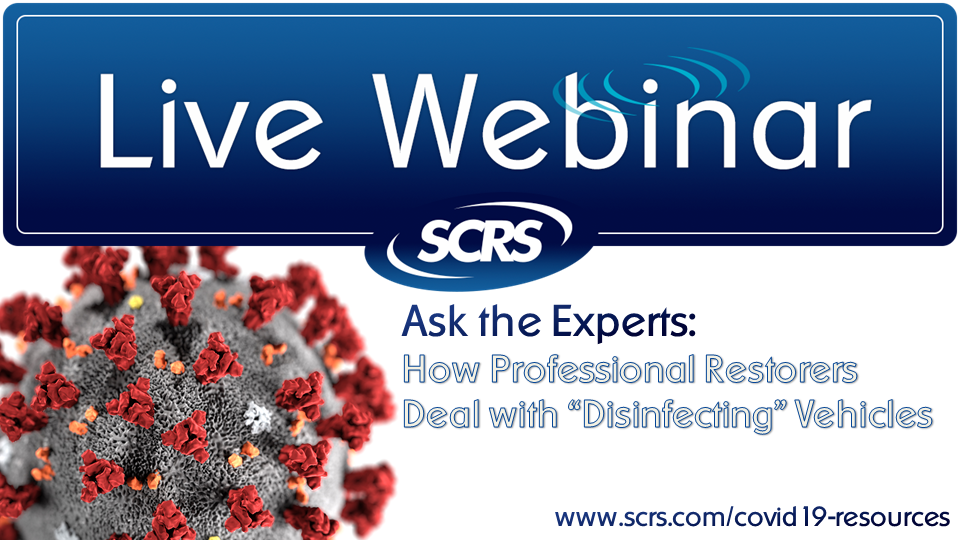 If you are looking for individualized resources such as developing shop-specific protocols, identifying materials lists, and on-line training to help continue to navigate the pandemic, Norris Gearhart, Certified Restorer and President/CEO of Gearhart & Associates LLC has offered his services to members of the collision repair community. Norris can be contacted at norris@gearhartassoc.com or 240-344-7017, and you can find out more about his company at www.gearhartassoc.com.  Aside from protocol development, Gerhart and Associates also offers operational consulting and executive level mentoring along with our other brand management services.
For questions, comments or requests for assistance from Kris Rzesnoski, Certified Restorer and Vice President of Encircle, you can contact him at krzesnoski@encircleapp.com or 204-869-8887, with more on Encircle at www.getencircle.com.

RDN Coverage of the Webinar:
SCRS Letters of Support:
Choose the toggle of each Subject to find Related Resources for COVID19
We recognize that many of you are being inundated with information surrounding the current events that are unfolding, and many of our members are reaching out trying to understand what it means to your business, and where to start. SCRS is working to continue to compile relevant information that we believe provides you with access to tangible solutions and easy-to-digest breakouts of what are very complicated measures being taken to help small businesses and citizens across the U.S.