The Society of Collision Repair Specialists (SCRS) recognizes that the industry is seeking appropriate responses and practices, and on Tuesday, April 28th 2020 held a live webinar to learn from professional restorers experienced in restoration, decontamination and infectious disease control.

Click here to view the recording of the free webinar: https://us02web.zoom.us/webinar/register/rec/WN_877fyHmOTE2rQR1R8UIcxA?meetingId=vclQbJKh53FJUM_KuWPvHbViF6PgX6a8higX-PMEy09RaDO095VbEu16XSp9sfUb&playId=&action=play
Please use this password when prompted, 2T%*E!68​​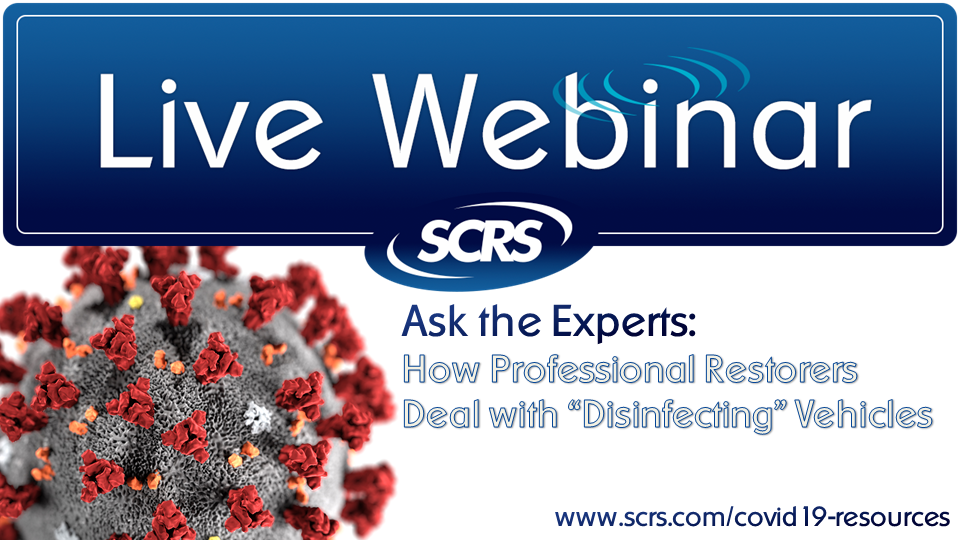 If you are looking for individualized resources such as developing shop-specific protocols, identifying materials lists, and on-line training to help continue to navigate the pandemic, Norris Gearhart, Certified Restorer and President/CEO of Gearhart & Associates LLC has offered his services to members of the collision repair community. Norris can be contacted at norris@gearhartassoc.com or 240-344-7017, and you can find out more about his company at www.gearhartassoc.com.  Aside from protocol development, Gerhart and Associates also offers operational consulting and executive level mentoring along with our other brand management services.
For questions, comments or requests for assistance from Kris Rzesnoski, Certified Restorer and Vice President of Encircle, you can contact him at krzesnoski@encircleapp.com or 204-869-8887, with more on Encircle at www.getencircle.com.

RDN Coverage of the Webinar:
SCRS Letters of Support:
Choose the toggle of each Subject to find Related Resources for COVID19
We recognize that many of you are being inundated with information surrounding the current events that are unfolding, and many of our members are reaching out trying to understand what it means to your business, and where to start. SCRS is working to continue to compile relevant information that we believe provides you with access to tangible solutions and easy-to-digest breakouts of what are very complicated measures being taken to help small businesses and citizens across the U.S.
CARES Act Assistance
CARES Act

Congress passed

the Coronavirus Aid, Relief, and Ec

onomic Security Act," signed by the President on Friday,

making billions of dollars in loans available — and partly forgivable — for small businesses like body shops suffering an COVID-19 economic hit.

You can read a summary article here in Repairer Driven News.

The CARES Act includes massive funding for families and businesses, such as

         

Direct Payments to families and expanded UI benefits
         $350 billion to health care professionals

         

Small and large business loans

         

Significant tax benefits

         

Many, many other provisions designed to help families and businesses
This economic relief package should provide financial support to many of our member businesses facing hardship as a result of the very sudden change in the marketplace due to the Pandemic. From what we are hearing, there is an overwhelming demand for support and the loan application process can be challenging to understand and execute flawlessly. If you are looking for assistance resources in seeking funding, collision industry financial consultant Brad Mewes has made us aware of a program he has implemented to help collision repair businesses gain access to secure government funding:  https://covid19loans.org/. Our understanding is that this group charges a flat fee, similar to paying a fee to have someone help you file your taxes vs. filing them yourself.
Direct Links to Resources
For those who are looking to navigate the waters individually, there are a number of Government Agencies that are developing sites with information that can help your business:
Internal Revenue Service (IRS):
The IRS has established a special section focused on steps to help taxpayers, businesses and others affected by the coronavirus. This page will be updated as new information is available: https://www.irs.gov/coronavirus

It is important to note that the second Treasury Announcement on March 21st also delayed tax payments and tax filings until July 15th for both the filing and payment of ALL income taxes. This is automatic with no action required.

Many U.S. states are providing tax filing and payment due date relief for individuals and businesses. Keep current on which states are offering relief here: https://www.aicpa.org/content/dam/aicpa/advocacy/tax/downloadabledocuments/coronavirus-state-filing-relief.pdf

Small Business Administration (SBA):
The U.S. Small Business Administration is offering designated states and territories low-interest federal disaster loans for working capital to small businesses suffering substantial economic injury as a result of the Coronavirus (COVID-19): https://www.sba.gov/disaster-assistance/coronavirus-covid-19

You can find the COVID-19 ECONOMIC INJURY DISASTER LOAN APPLICATION here.

SAMPLE SBA 7(a) CARES Act Calculator (courtesy Security Bank) – Download as Excel Sheet
Department of Labor (DOL):
As provided under the Families First Coronavirus Response Act (FFCRA), the U.S. Department of Labor will be issuing implementing regulations. Additionally, as warranted, the Department will continue to provide compliance assistance to employers and employees on their responsibilities and rights under the FFCRA: https://www.dol.gov/agencies/whd/pandemic/ffcra-questions. You can also find updated DOL Employee Rights posters at https://www.dol.gov/newsroom/releases/whd/whd20200324.
For the most up-to-date DOL guidance keep tabs online at the DOL newsroom: https://www.dol.gov/newsroom/releases/whd/whd20200324
Resources From SEMA's Washington D.C. Office 
Beyond governmental agencies, funding and employment concerns, SCRS recognizes that our business owners are faced with operational challenges as well. One of SCRS' merchant services providers has worked to specifically address payment processing needs during this trying time. Payroc has rallied together as an organization to offer a package of financial tools and marketing help to combat the impact this virus is having on businesses in the most effective way possible. You can find out more about how their financial tech can help your business weather Covid-19 http://partners.payroc.com/covid-19/, including a repurpose of their marketing team to help offer small businesses free design services.

Want an added resource? Check out the CARES Act Overview/Paycheck Protection Loans 101
https://cdn2.hubspot.net/hubfs/2238251/Payroc%20PPL%20Overview%20eBook.pdf   
An additional factor of this health epidemic has been the countless state-level requests calling for businesses to inventory Personal Protective Equipment (PPE), and well-intentioned requests for civic-minded donations of remaining inventories of items such as N95 masks that are critical in safeguarding healthcare professionals at the frontlines of the crisis. 3M has announced plans to produce and prioritize respirators for the health care industry during the COVID-19 coronavirus response, and the company has presented some recommended alternatives to the masks currently in high demand by medical professionals. Shops might wish to research these and other PPE alternatives as a means of keeping staff safe and saving other masks for health care workers on the front lines.

Lastly, SCRS has received questions surrounding business interruption insurance denials based on virus exclusions. This article in Claims Journal details business efforts to challenge that determination, finding a physical damage may require some interpretation that is different than what insurers have imposed
Other Resource Pages
Corporate / Company Member Resource Sites: