Set your shop up for even greater success in 2021 and register for one of the upcoming weekly demos of the Blueprint Optimization Tool (BOT). These demos are conducted every Wednesday at 2:30PM EDT, and we ask that you register 15 minutes or more before the demo to receive your logon link: https://register.gotowebinar.com/rt/1047431471054808845. If you register in advance you will receive email reminders.
Want to know what others in the industry are experiencing with this resource?
"I have taught and coached people through the damage appraisal process for many years and shown shops how to utilize the SCRS Guide to Complete Repair Planning. Now I am working with some of those same shops using the BOT, and they are adding the items the BOT has identified as missing from the initial estimate with acceptance by third party payers with little or no negotiation. I had one shop manager tell me that one of his estimators commonly missed items on his repair plans previously, and was hesitant to add operations for fear they would be rejected. But now he has the highest average repair, often surpassing his peers where he works that once eclipsed him by $500 – $800. I see this as a true game changer and something that has been needed for quite some time, the ease of use and thoroughness of the BOT is without comparison." – John Shoemaker, Business Development Manager, BASF Automotive Refinish Coatings North America
Join us this Wednesday to learn more: https://register.gotowebinar.com/rt/1047431471054808845.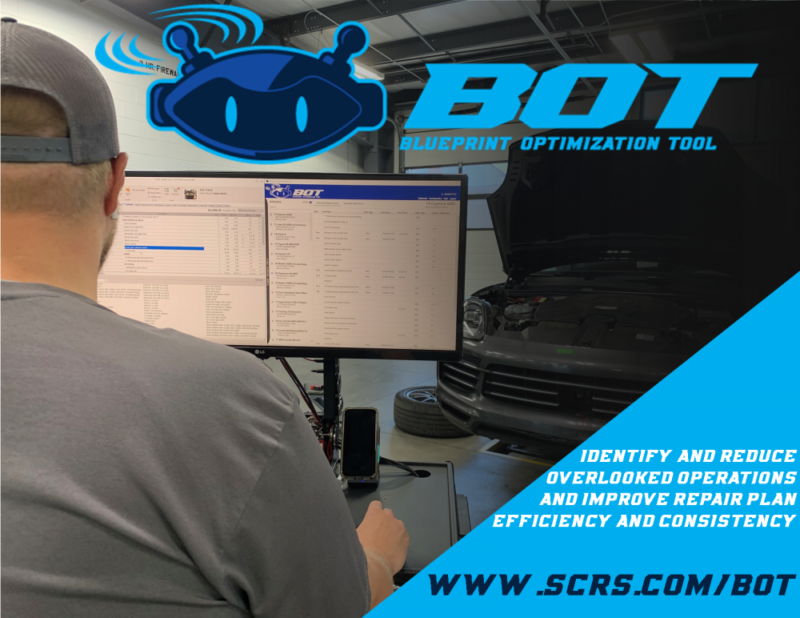 For more information about SCRS, or to join as a member, please visit www.scrs.com, call 1-877-841-0660 or email info@scrs.com.