Mechanicsville, Virginia, April 20, 2021 – The Society of Collision Repair Specialists (SCRS) has released their newest iteration of the "Kool Tools" series, highlighting tools and unique products discovered during the 2020 SEMA360 online event, and compiled by the SCRS Education Committee in the first part of 2021.
View the video at https://youtu.be/89wkOr0EZdI or by clicking the image below: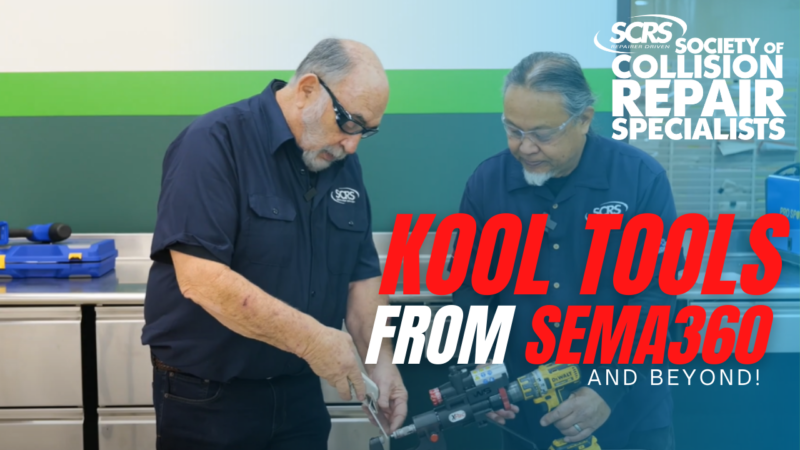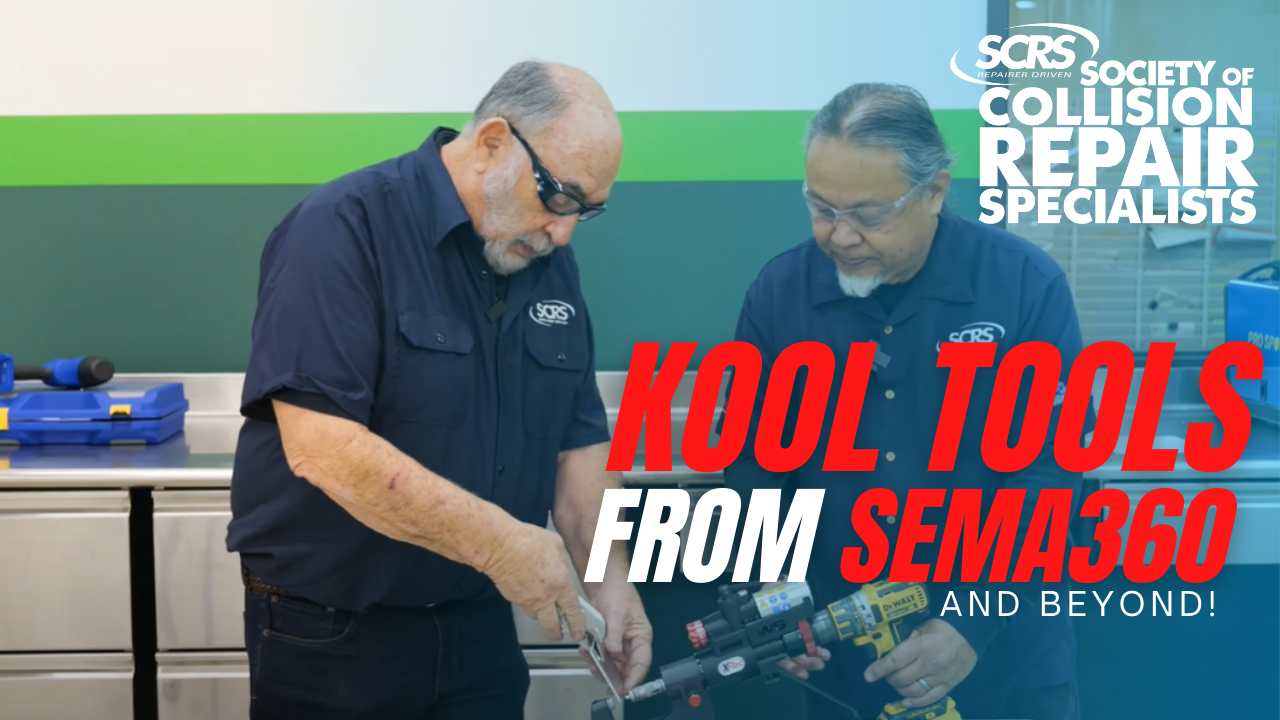 The presentation, led by committee members Toby Chess and Kye Yeung, continues in the spirit of the annual event. In past years, Education Committee members would walk the show, seeking out unique tools, equipment and offerings to the collision repair industry that could bring advantages to collision repair professionals. These may be highly unique tools, or sometimes, very common tools but with standout factors that set them apart.
"This year's event was a little different in light of the virtual nature of SEMA360." shared SCRS Education Committee Chair, Amber Alley. "Despite being a departure from the in-person gathering process, the team did a really remarkable job in sourcing some really unique and useful products and putting them through the paces in their facilities to identify some of the favorite contenders. Historically, the reviewed items were often personally purchased by Toby and Kye. They have typically always put them to use in a working collision repair environment following the show, prior to being featured in the presentation. I feel like the committee did a great job, sticking true to the roots, securing the tools, testing how the products held up and how their technicians liked the usability, before committing to including them."
Watch more about the history of the Kool Tools program by clicking here https://www.youtube.com/watch?v=27Ko1g4vGAs, or the image below.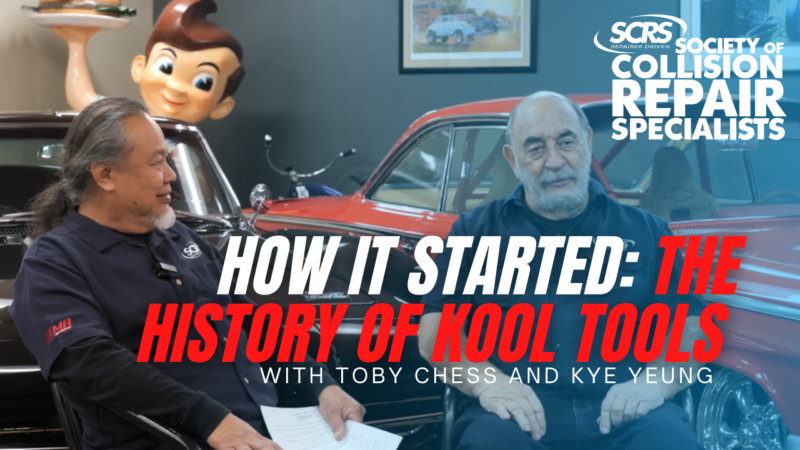 SCRS encourages you to subscribe to the association's YouTube channel, SCRSCollision, to be notified as new material is released.
For more information about the specific items addressed in the video, follow the links below:
Kye Yeung & Toby Chess:
Battery operated rivet gun: Car-O-Liner CBR2000
https://car-o-liner.com/na
Wielander + Schill SPR Rivet Gun: XPAC
Reliable automotive equipment
Billy Northrop: bill@rae1.com
Michael Bradshaw:
Battery Tester and Maintainer: Autel BAS BT608
https://www.auteltech.com/c/www/special/3564.jhtml
Multiple Online Retailers
Kye Yeung & Toby Chess:
Multi Voltage MIG Welder: Pro Spot PR220 MV
https://prospot.com/products/pr-220mv/
Miller clear lens helmet & light Accessory kit
https://www.millerwelds.com/accessories/helmet-accessories/helmet-lighting
https://www.millerwelds.com/safety/helmets/classic-series-welding-helmets-with-clearlight-lens-technology-m30254
Amber Alley:
Duracell 4 amp battery charger + maintainer: DRMC4A
Multiple Online retailers
Seam Sealer: TEROSON® tools and materials
Henkel
John O'Neill: john.j.oneill@henkel.com
Scangrip 8000 Lumen LED detailing light with Diffuser
Scangrip
Multiple Online retailers
Kye Yeung & Toby Chess:
Battery Maintainer: Powermax
https://powermaxconverters.com/
Multipurpose PDR Light: KECOTABS
https://www.kecotabs.com/collections/pdr-and-portable-lighting
Multipurpose Overspray, Glass and Plastic cleaner: CSI Q-7 Detailer
https://csishine.com/collections/q-7-wax-part-number-62-204/q-7-detailer?sort_by=best-selling
Paul Sgro:
Quality control app tool: Collision Core Quality
Sherwin-Williams
Lee Rush: 1-770-294-6133
https://industrial.sherwin-williams.com/content/sherwin-williams/pcg/industrial-sw-com/na/us/en/automotive/customer-programs/collision-core.html
Kye Yeung & Toby Chess:
Flexible Detailing Water Blade: One Pass
https://www.kent-automotive.com/One-Pass/Waterblade-Detailing-Squeegee-12/1549131.ka
Ron Reichen:
Adas Calibration Information: Adasthink
https://adasthink.com/
info@adasthink.com 1-800-410-2327
Kye Yeung & Toby Chess:
Wheel and Tire Balancer: Hunter HD Elite
https://www.hunter.com/wheel-balancers/hd-elite/
About SCRS: Through its direct members and 37 affiliate associations, SCRS is comprised of 6,000 collision repair businesses and 58,500 specialized professionals who work with consumers and insurance companies to repair collision-damaged vehicles. Additional information about SCRS including other news releases is available at the SCRS Web site: www.scrs.com. You can e-mail SCRS at the following address: info@scrs.com.