SCRS Education Committee Presentation Made Available Online
Prosser, Washington, August 23, 2018 -The Society of Collision Repair Specialists (SCRS) open board meeting was conducted on Tuesday, August 7th, in Atlanta, GA. The live meeting included a presentation from the SCRS Education Committee entitled, "Think Maintenance, Think Safety."
The presentation can be found online in its entirety at https://scrs.com/scrs-education-committee-presentation-think-maintenance-think-safety/ or click on image below: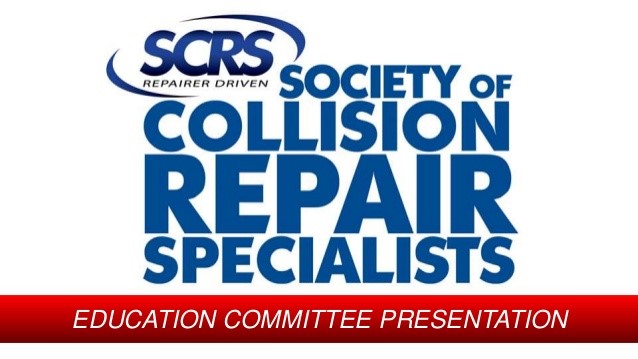 The online version also contains a 9:35 minute video embedded at slide 27 (video posted below) and created by Toby Chess, to specifically address setup, maintenance and troubleshooting tasks using an example Miller, Millermatic 140 Auto-Set Welder.
The video also covers technician safety considerations when welding.
SCRS encourages you to subscribe to the association's YouTube channel SCRSCollision to be notified as new material is released. If you like the content found on SCRS.com and SCRS' YouTube channel, the association encourages you to share with your colleagues.
About SCRS' RDE series:
Repairer Driven Education (RDE) series will feature 5 days of seminar offerings, many of which are uniquely designed and being offered only at the 2018 SEMA Show, including the OEM Collision Repair Technology Summit. The 2018 Repairer Driven Education series is currently made possible with support from AASP, AkzoNobel, American Honda Motor Co., BASF, CCC, GM, LKQ, PPG, Sherwin-Williams and Toyota. Better your business by registering today at www.scrs.com/rde.
For more information about SCRS, or to join as a member please visit www.scrs.com, or contact our offices at info@scrs.com.
####
About SCRS: Through its direct members and 38 affiliate associations, SCRS is comprised of 6,000 collision repair businesses and 58,500 specialized professionals who work with consumers and insurance companies to repair collision-damaged vehicles. Additional information about SCRS including other news releases is available at the SCRS Web site: www.scrs.com. You can e-mail SCRS at the following address: info@scrs.com.