SCRS Adds Details for 2019 OEM Collision Repair Technology Summit Session III SEMA Show
Mechanicsville, Virginia, October 9, 2019 – The Society of Collision Repair Specialists (SCRS) has updated show attendees on added details on the afternoon session of the 2019 OEM Collision Repair Technology Summit at the SEMA Show.
To register to attend the Summit, held Thursday, November 7, 2019, visit www.scrs.com/rde and either select the individual sessions, or for the best value, purchase a Full Series Pass.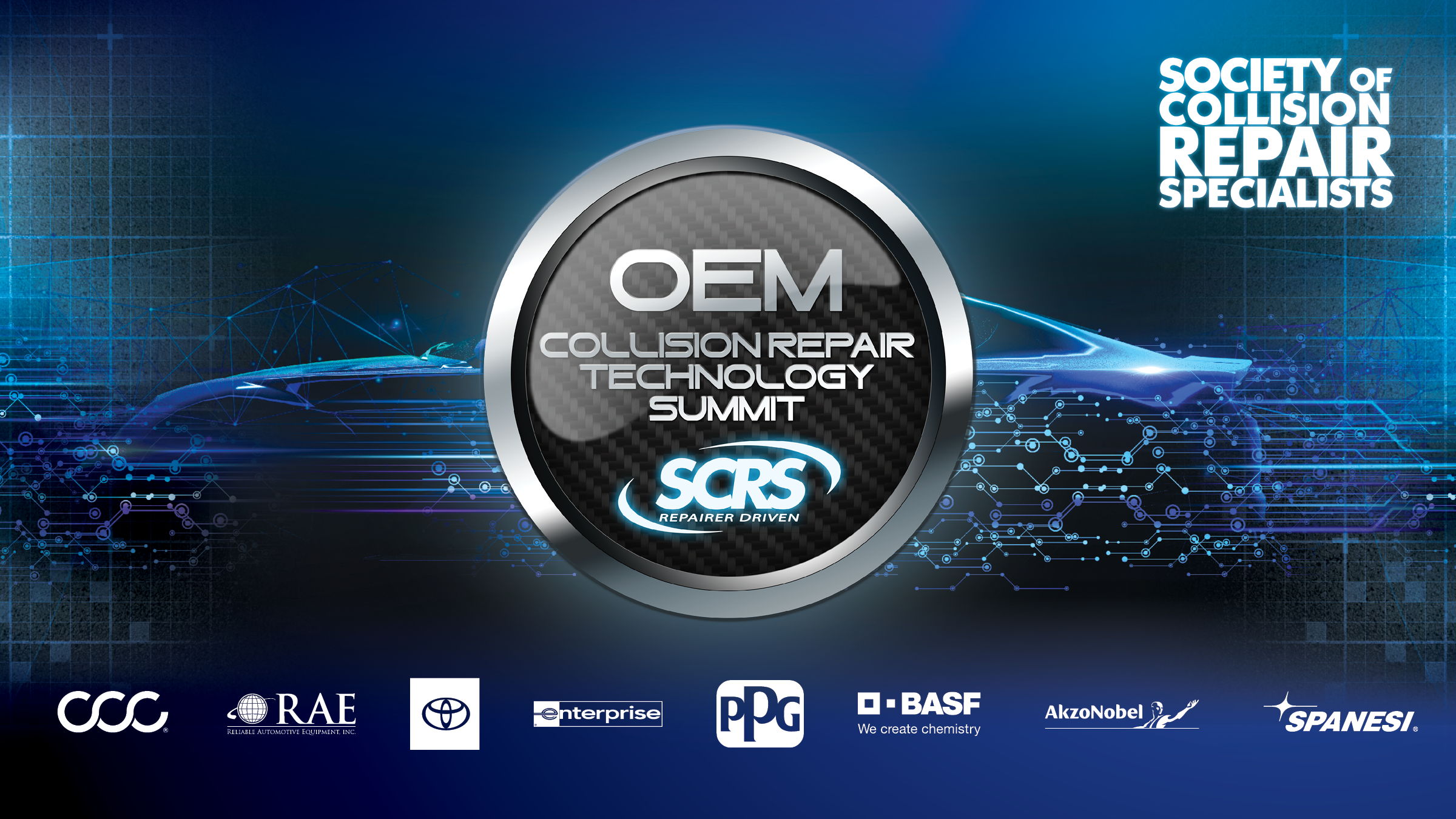 The Summit sessions have historically hosted discussion between companies and individuals with rich histories of producing sophisticated advancements in the automotive and collision repair fields, and the 2019 program will continue in the same fashion.
Join us for OEM Session III: 3:00pm – 5:00pm
Meeting the OEM expectation in welding
The resistance welding process is one of the most critical steps in joining together the structural elements of a vehicle, and one that can be impacted by both practice and process within your facility. Sophisticated functions of modern vehicles rely on structurally sound base elements of the automobile, and welding the structure with predictability is a core element of establishing a proper baseline.
This panel of subject matter experts features automakers and companies with decades of experience advancing the automotive and collision repair field in terms of welding procedures, training and equipment.
Audience members will interact as the panel explores the expectations established by the automaker, made possible in the aftermarket by equipment and training accessibility, and practices to consider within your business with the support of resources available to help you accomplish more predictable welds that align with OEM processes.
Topics will focus on improving weld performance through maintenance, frequent training, practice protocols, destructive testing, and quality control considerations.
Questions will be led by Mark Olson, CEO of VECO Experts, an independent organization who works directly with automakers, performing on-site assessments, repair inspections and technical training lessons to ensure fit, finish, durability, value, and consumer safety.
Panelists Include:
Shawn Hart
Collision Instructor / Curriculum Designer, Audi of America
Rick Miller
Program Consultant, Jaguar Land Rover
Dave Gruskos
President, Reliable Automotive Equipment
Robert Hiser
Technical Training Specialist and OEM Liaison, Spanesi Americas
Ryan Swanson
Training Development Manager, Pro Spot International
Other OEM Summit sessions being held on Thursday, November 7 include:
OEM Session I: 9:00 – 10:30am
From substrate to surface – preparing for emerging trends in automotive technology
OEM Session II: 11:00am – 12:30pm
HELP! A comprehensive conversation surrounding accessibility to OEM procedures and technical support
To secure your spot visit www.scrs.com/rde to register.
The 2019 OEM Collision Repair Technology Summit is made possible with support from PPG Automotive Refinish; AkzoNobel; BASF; CCC Information Services, Inc.; Reliable Automotive Equipment; Enterprise; Toyota Wholesale Parts; and Spanesi-Americas.
To learn more about SCRS' education series at the SEMA Show visit www.semashow.com/scrs
###
About SCRS' Repairer Driven Education: The 2019 RDE series marks the 10th delivery of collision repair education programs produced by SCRS for the SEMA Show. The series will feature 5 days of seminar offerings, many of which are uniquely designed and being offered only at the 2019 SEMA Show. Repairer Driven Education includes general sessions Monday – Wednesday, the OEM Collision Repair Technology Summit on Thursday, and the IDEAS Collide Showcase on Friday. The 2019 RDE series is made possible with support from AASP, AirPro Diagnostics, AkzoNobel, American Honda Motor Co., Axalta, BASF, CCC, Celette, Enterprise, GM, Hedson Technologies, PBES, Podium, PPG, Pro Spot, Reliable Automotive Equipment, Spanesi Americas and Toyota. Better your business by registering today at www.scrs.com/rde.
About SCRS: Through its direct members and 38 affiliate associations, SCRS is comprised of 6,000 collision repair businesses and 58,500 specialized professionals who work with consumers and insurance companies to repair collision-damaged vehicles. Additional information about SCRS including other news releases is available at the SCRS Web site: www.scrs.com. You can e-mail SCRS at the following address: info@scrs.com.