Mitchell CEG Collision Estimating Guide > Procedure Explanations > 9 Frame> Frame Assembly R & R
NOTE: Frame Assembly R&R requires planning. Proper preparation and job sequencing are key to performing this operation. Also, special equipment, additional workspace and manpower may be needed.
NOTE: It may be necessary to transfer parts from the damaged frame or order new parts to use on the new frame. This cannot be determined until you see the new frame. The needed additional time for this operation must be estimated.
We also suggest utilizing SCRS Guide to Complete repair planning page 17 for additional considerations to frame replacement.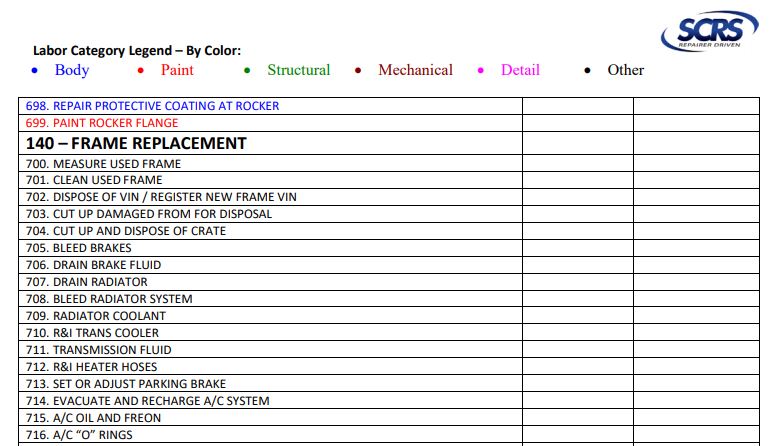 The estimating databases are all intended to be used as a GUIDE ONLY – it is important to remember that the auto body professional performing the repair is in a position to thoroughly inspect, diagnose and identify the methodology and their unique cost of the vehicle damage repair.
You can view this tip and others on the DEG website by clicking here!
For more information about SCRS, or to join as a member, please visit
www.scrs.com, call toll free 1-877-841-0660 or email us at info@scrs.com.