Invitation to Collision Industry Red Carpet Awards Breakfast at 2018 SEMA Show
Prosser, Washington, October 11, 2018 – The Society of Collision Repair Specialists (SCRS) invites the industry to attend the second annual Collision Industry Red Carpet Awards Breakfast at the 2018 SEMA Show. This event will be free to attend, and held on Wednesday, October 31 from 7:30 – 9:30am in Ballrooms D-E at the Westgate Las Vegas Resort and Casino. Seating for breakfast will be on a first come, first served basis and will be limited to 200 available seats.
The event will feature some of the most prestigious awards and recognitions from industry organizations that highlight standout individuals and businesses in the collision repair industry; including:

As part of the morning ceremony, SCRS will deliver the March Taylor Kina'ole Award. The Hawaiian word Kina'ole is the embodiment of excellence in the highest form. It is often defined as "Doing the right thing, in the right way, at the right time, in the right place, to the right person, for the right reason, with the right feeling, the first time."
The spirit of Kina'ole permeates much of the work of SCRS, instilled in the organization by March Taylor; owner of Auto Body Hawaii in Kailua Kona, Hawaii, and SCRS board member. On August 26th, 2007, March Taylor passed away.
"It's important to us that we continue to embrace the legacy that March left behind," shared SCRS Chairman, Kye Yeung. "The concept of doing the right thing, at the right time, for the right reasons and without any other motivation is really a celebration of pure passion for moving the industry forward. It's recognizing those who have not motive, no agenda, just a genuine desire to help do good. We are really excited for this next presentation, and to have the opportunity to recognize people in the industry who exemplify these traits."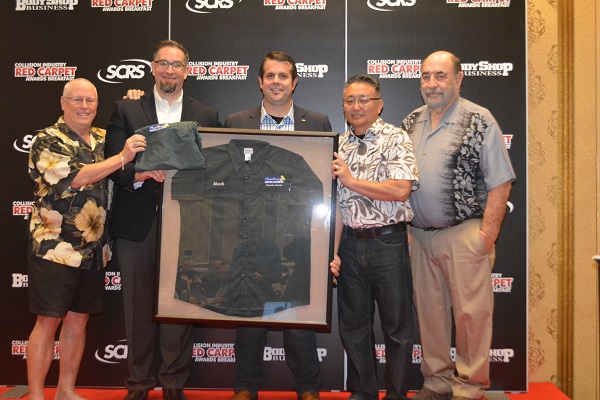 We encourage all who were touched by March, and who have felt his absence in our lives to join us for this very touching memorial award.
The Collision Industry Red Carpet Awards Breakfast places a priority on encouraging and recognizing greatness in individuals, companies and actions in the collision repair industry, and the excitement and energy of the SEMA Show provide the perfect backdrop for such distinguished presentations.
The Breakfast is made possible with support from AMI, Body Shop Business and SCRS.
For more information about SCRS, or to join as a member, please visit www.scrs.com, call 1-877-841-0660 or email info@scrs.com.
####
About SCRS: Through its direct members and 38 affiliate associations, SCRS is comprised of 6,000 collision repair businesses and 58,500 specialized professionals who work with consumers and insurance companies to repair collision-damaged vehicles. Additional information about SCRS including other news releases is available at the SCRS Web site: www.scrs.com. You can e-mail SCRS at the following address: info@scrs.com.