Mechanicsville, Virginia, March 14, 2021 – During the 2021 SEMA Show, the Society of Collision Repair Specialists (SCRS) captured every classroom delivery of Repairer Driven Education (RDE) on video and the content is now fully uploaded and available to watch online at https://rde.scrs.com.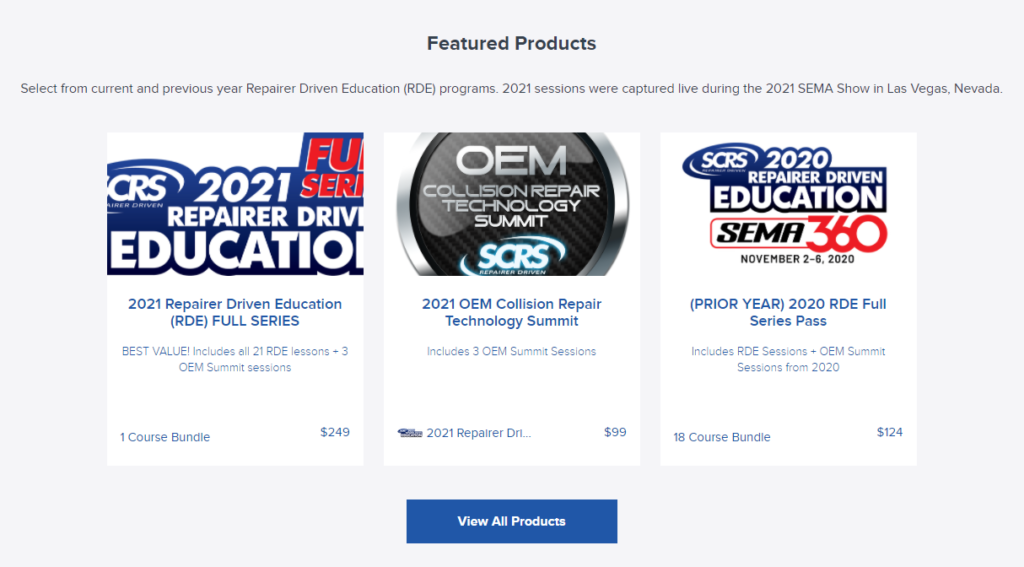 The 2021 Repairer Driven Education (RDE) FULL SERIES product contains both the general sessions plus the OEM Summit sessions. Participants will have access to over 35 hours of educational programs designed for collision repair businesses and delivered by the nations' leading subject matter experts.  You can share these sessions with your entire staff with one subscription, all from the comfort of your business.
RDE general sessions include topics such as scanning and calibration, repair planning, consumer protection, future trends and technology, workforce and environmental protection, OEM networks and business considerations, marketing, right to appraisal (RTA), business analysis, automotive refinishing and more!
The OEM Summit captured panel conversations with representatives of American Honda, Ducker, Cambridge Mobile Telematics, GM, Lucid, Rivian and Subaru as they covered topics on Electric Vehicle, Advanced Driver Assistance Systems (ADAS) and safety, and telematics.
Current SCRS members are entitled to an online coupon code which will provide them a 20% discount on purchases at https://rde.scrs.com. For members who have misplaced their coupon code, contact the office at info@scrs.com to receive a new one.
SCRS additionally extends their appreciation to all the companies who supported the association in delivering the educational content the industry at the 2021 SEMA Show. The 2021 Repairer Driven Education series was made possible with support from 3M, AASP, AirPro Diagnostics, AkzoNobel Coatings, Axalta, BASF, CAR-O-LINER, CCC, Celette, Enterprise, PBES, Reliable Automotive Equipment, Inc., SEMA, Spanesi-Americas and Toyota Motor North America.
To learn more about, or register for SCRS' education series, visit https://rde.scrs.com.
For more information about SCRS, or to join as a member, please visit www.scrs.com, call 1-877-841-0660 or email info@scrs.com.
About SCRS: Through its direct members and 40 affiliate associations, SCRS is comprised of 6,000 collision repair businesses and 58,500 specialized professionals who work with consumers and insurance companies to repair collision-damaged vehicles. Additional information about SCRS including other news releases is available at the SCRS Web site: www.scrs.com. You can e-mail SCRS at the following address: info@scrs.com.