Recent Audatex Inquiries 12661 and 12720 discuss how bonded quarter glass labor is assigned when selecting the "Quarter Glass Sealant Kit" and the "Quarter Glass" part itself.
"We have reviewed the current Audatex labor procedures and labor allocation for the SEALANT KIT,QTR GLASS (GN 0317/0318) and GLASS,QUARTER TINTED (GN 0321/0322). In Audatex, when a user adds both aforementioned items to an estimate, the system allocates the labor to the lowest guide number after any applicable overlap is applied. This guide number hierarchy is integrated into Audatex labor development. Estimator judgement times or manual entries will not remove preexisting overlap deductions where labor economies between multiple parts have already been considered. This is the normal function of the Audatex Estimating system. No change warranted at this time."
Users can tell by reviewing the Audatex estimate report if the labor time is modified from the "Quarter Glass Sealant Kit" locating a "*" next to the labor line.
When both the sealant kit and glass is selected, the Labor Time will automatically allocate to the Glass Sealant and should be careful to know this is the actual labor for the glass R/I or R/R procedure.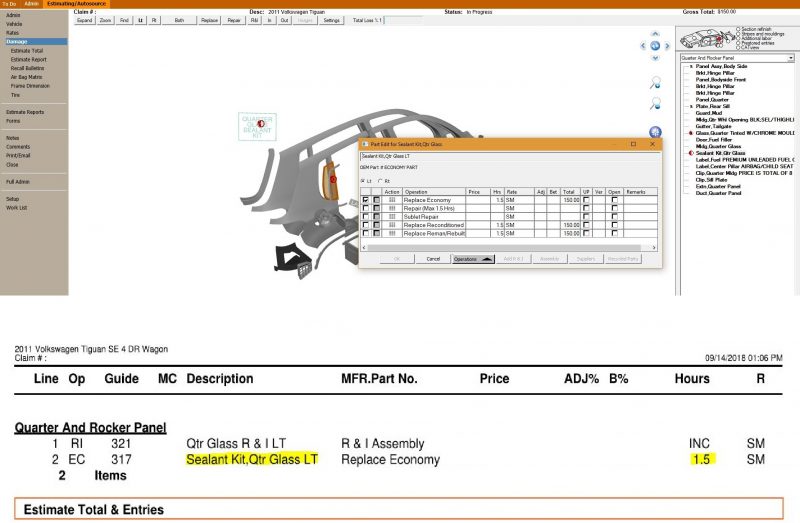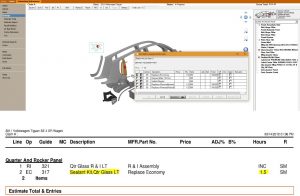 The estimating databases are all intended to be used as a GUIDE ONLY – it is important to remember that the auto body professional performing the repair is in a position to thoroughly inspect, diagnose and identify the methodology and their unique cost of the vehicle damage repair.
You can view this tip and others on the DEG website by clicking here!
For more information about SCRS, or to join as a member, please visit
www.scrs.com, call toll free 1-877-841-0660 or email us at info@scrs.com.