If you follow SCRS, thank you for engaging in our community as a source of information and support. We receive a lot of questions on steps and considerations for washing vehicles and protecting consumers and employees during this pandemic. On April 28th SCRS held a webinar titled Ask the Experts: How Professional Restorers Deal with "Disinfecting" Vehicles – COVID-19 Special. If you missed it live, you can still watch it on-demand at https://bit.ly/SCRSCovidWebinar. Use this password when prompted, 2T%*E!68.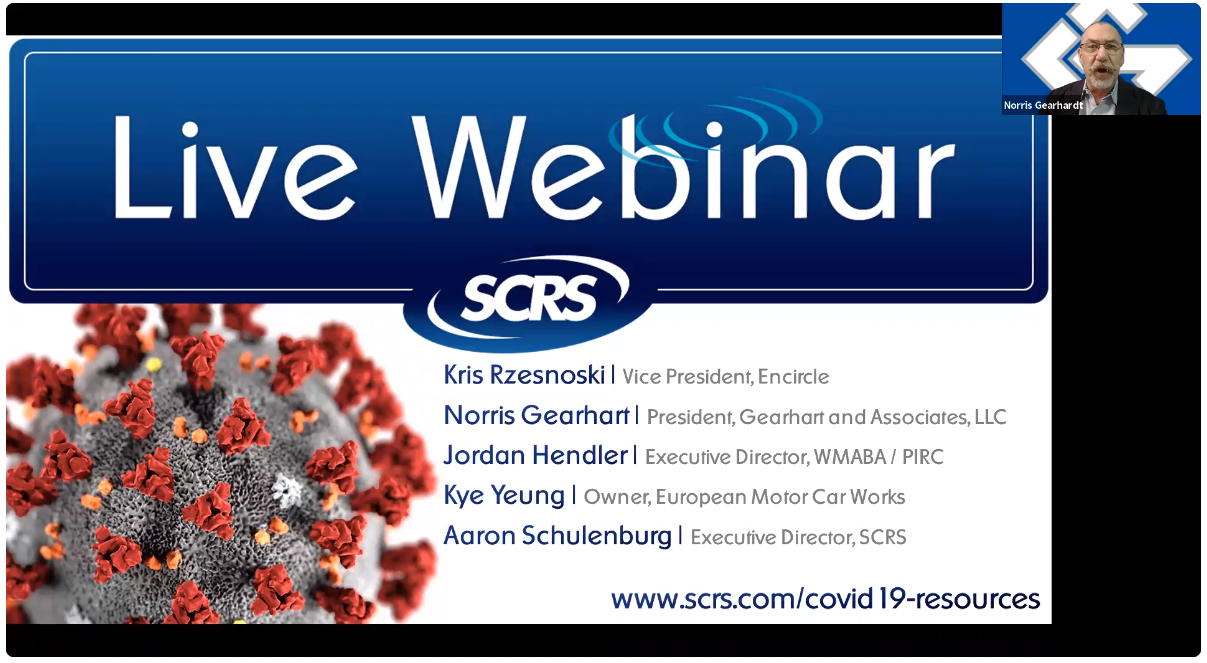 If you are looking for individualized resources such as developing shop-specific protocols, identifying materials lists, and on-line training to help continue to navigate the pandemic, Norris Gearhart, Certified Restorer and President/CEO of Gearhart & Associates LLC has offered his services to members of the collision repair community. Norris can be contacted at norris@gearhartassoc.com or 240-344-7017, and you can find out more about his company at www.gearhartassoc.com. Aside from protocol development, Gerhart and Associates also offers operational consulting and executive level mentoring along with our other brand management services.
For questions, comments or requests for assistance from Kris Rzesnoski, Certified Restorer and Vice President of Encircle, you can contact him at krzesnoski@encircleapp.com or 204-869-8887, with more on Encircle at www.getencircle.com.
IN THE NEWS
To keep up with news and current developments, SCRS highly encourages you to subscribe for free to our online news publication Repairer Driven News. You will find all pandemic-related stories earmarked with "COVID-19" so that they will populate in the search field or by following this unique search URL: https://www.repairerdrivennews.com/?s=Covid-19.
Please take note of recent stories, such as the details on the Treasury Department's recent extension of the "safe harbor" date from May 7 to May 14. On May 13th, the Treasury and SBA released favorable guidance for the PPP economic need certification. Based on that guidance, all loans of $2 million and under are automatically granted good faith certification of economic need. These loans will NOT be reviewed by the SBA. They have also clarified that an employer that applied for a PPP loan, received payment, and repays the loan by the safe harbor deadline (May 14, 2020) will be able to receive the Employee Retention Credit as long as they are eligible.
RESOURCES
Additionally, SCRS has continued to update our online resource page https://scrs.com/covid19-resources with material being released regarding workplace preparation and health, financial aid and relief and other resources, such as information pages being offered by other organizations and our Corporate and Company Members. We encourage you to check back regularly.
Lastly, SCRS has been updating content on www.youtube.com/scrscollision to provide information and training videos, with recent releases providing free access to 2019 SCRS Repairer Driven Education (RDE) sessions from the 2019 SEMA Show. We encourage you to subscribe to the channel to get notified of new releases. You can even share videos that you like to your own networks.
Again, thank you for being a part of the SCRS community. If you are a member, we appreciate your support and engagement and will continue to do our best to represent you well through these trying times. If you are not a member, thank you for following our content, and we hope when the time is right we can add you to the list of businesses we represent so that you too can take advantage of the many exclusive benefits of being a member. If you are looking to join, the process is made easy at www.scrs.com/join-scrs.
Let us know how we can help,


For more information about SCRS, please visit www.scrs.com, call 1-877-841-0660 or email info@scrs.com.