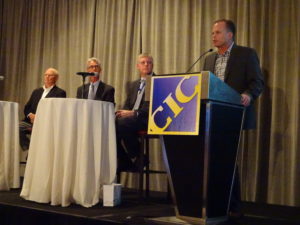 Collision Industry Conference
July 22 @ 11:00 am

-

July 23 @ 3:00 pm
THIS IS A VIRTUAL MEETING, HELD ON THE ZOOM PLATFORM(Pre-Registration is Required)
The CIC participants shall follow the published Participant Guidelines for in-person meetings
Instructions will be given by the Chairman at the beginning of each session.
Q&A and "Open Mic" Sessions
Attendees will be able to "Raise Hand", send Q&A questions or use Chat to speak or send comments that they feel need to be brought forward. These will be read during this time (if they do not violate anti-trust laws) and others may be able to respond through texting or by raising their virtual hand to address verbally. This will be managed in the order the inquiries are received.
Meeting Time: 11:00a-3:00p Wed / 11:00a—3:00p Thurs